ENGRAINED
MADE FOR YOU
Engrained is our premium quality water based stain and sealer, and has been formulated to deliver a highly durable, protective and impervious matt finish/coating. It is odourless, eco-friendly and effortless to use, with increased open time for easy application.
Suitable for use over interior and exterior raw timber surfaces, and for high traffic areas including counter/table tops, kitchen/bathroom cabinets.
COLOURS
Engrained comes in a beautiful palette of neutrals, earthy greys and shadowy darks which can soften, balance or enhance the natural tones of timber. These colours work beautifully for furniture and compliment other materials such as stone, concrete and leather.
BARE GRAIN – Matt, clear finish for enhancing and protecting the natural timber grain.
GALLERY WHITE – A vivid, fresh and cool white. Perfect as a modern liming or bleaching white.
ORGANIC WHITE – A classic neutral off-white, soft and warm. Perfect for an antiquing white.
PEPPER GREY – A soft, warm, pale grey. Perfect for a weathered driftwood finish.
BAKED STONE – A delicate earthy, taupe-stone grey. Sophisticated and luxurious.
URBAN GREY – A cool and moody weathered grey. Perfect with blues, charcoals and blacks.
TOASTED BROWN – A versatile shadowy, grey-brown. Perfect for modern farmhouse.
BARNYARD BROWN – A deep, dark brown with grey undertones. Perfectly inspired from nature.
CHARRED BLACK – A deep, intense black. Perfect for an industrial, warehouse feel.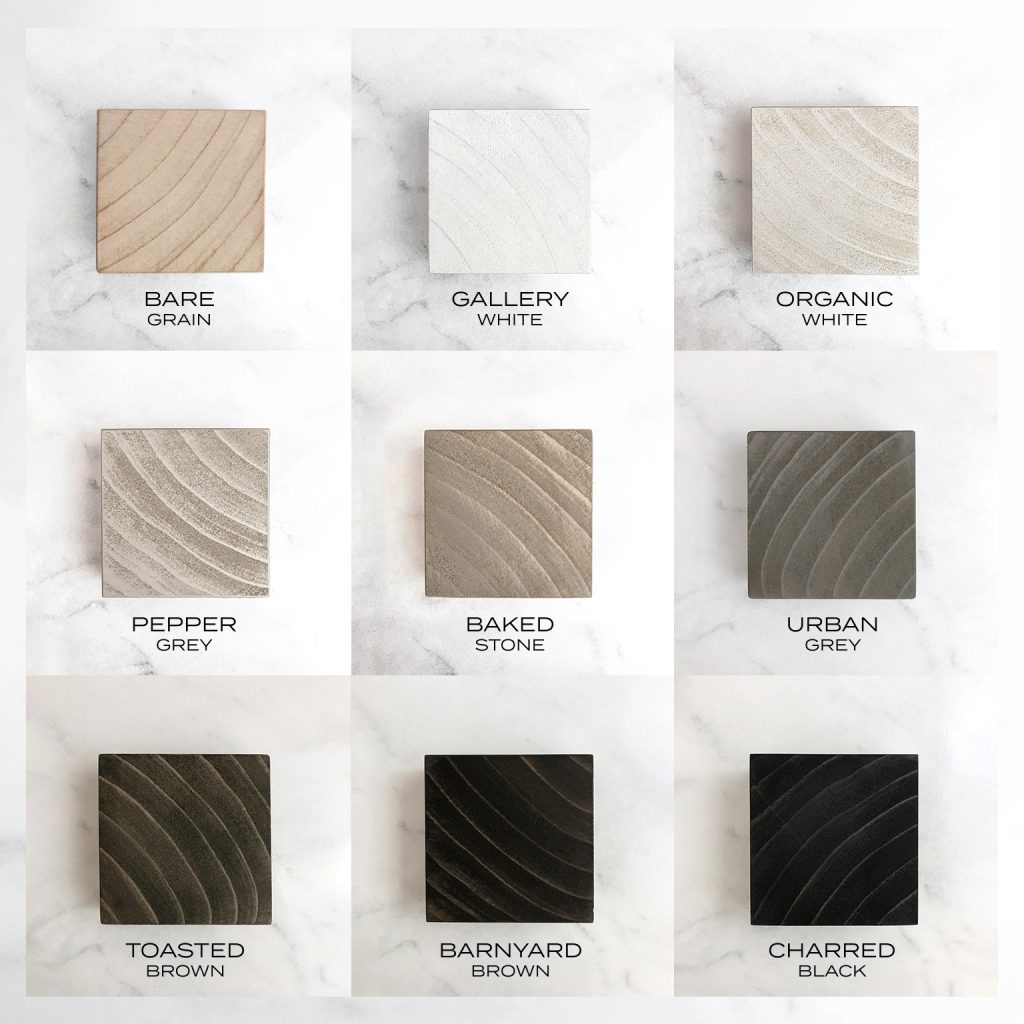 APPLICATION
Ensure the surface is clean and free from mould, dirt, dust, grease and wax.
Stir well with a broad flat stirrer before use and decant the required amount into a suitable container to work from. Reseal the tin airtight for longevity. Simply apply an even coat following the grain, using a lint free cloth, brush, sponge or foam roller. Dampening any applicator will increase the working/open time if required in humid conditions. Keep a wet edge and do not stop and start or overwork Engrained.
A two coat application is recommended with Engrained.
One coat will deliver a matt, translucent/wash effect – use Bare Grain (clear) as the final coat where no further opacity is required.
Two coats will deepen the colour opacity.
Three coats will produce full coverage/block out.
The surface will be touch dry in 30 minutes, and may be recoated after 2 hours.
Lightly sand between coats with 240 grit sandpaper to smooth if timber raising occurs.
Dilution by up to 5% with water is acceptable to reduce opacity.
An additional coat of Bare Grain may be applied to increase protection.
Test in an inconspicuous area first as results can differ depending on wood species.
Coverage – A 250ml tin will cover approximately 2-3 square metres.
Cure Time – Allow 7 days to fully cure before use (in optimum conditions).
Clean Up – water.
APPLYING OVER PINE
Pine is a very porous timber and can take stain differentially.
It can grab stains in areas and not take in others, which can result in an unsightly blotchy mess.
You can never really know just what the outcome will be until you actually apply your stain.
An uneven result can be disappointing and unacceptable, so making the pine less absorbent will help.
There are many factors at play when it comes to how the stain will turn out.
The age and the condition of the wood can also make a difference. The more porous the timber the more it will absorb the stain. Sanding your surface smooth with a high grit sandpaper 400 + can close up the pores in your pine, making it less absorbent.
It really is a fine balance in knowing just what to do and how to proceed.
Testing the stain in an inconspicuous area first will help. If the stain is too strong , then you can dilute the stain with up to 5% water.
Alternatively you can apply a conditioning coat to your wood first which will help to make the pine less porous and give you more control with a stain. Bare Grain Clear can be used for this purpose.
APPLYING OVER PRE-EXISTING VARNISHED AND WAXED SURFACES
Engrained may be applied to furniture that already has been factory finished. Test the stain first in an inconspicuous area, lightly scuff the surface and apply with either a foam roller or brush. If a piece has been previously waxed, remove any wax first with mineral turpentine before using Engrained.